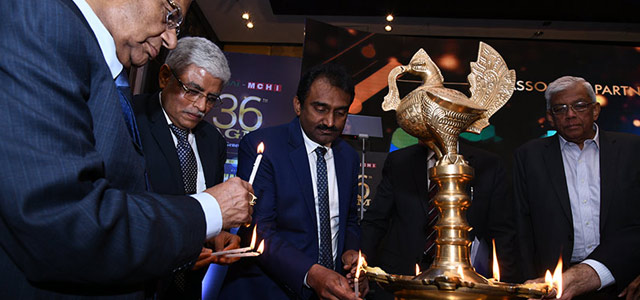 ~ Nayan Shah, President, CREDAI-MCHI takes the reins forward with a Mission~
•         Making Real – Estate Business viable & Easy to operate
•         Making Affordable Homes for all a reality
•         Addressing key last mile issues environmentally, technically & financially viable
•         EXECUTION, COMPLETION, COMMENCEMENT guiding mantra for Real – Estate industry

CREDAI – MCHI witnessed 'Change of Guard' on July 31, 2018, as Mr Mayur Shah handed over the baton to the newly elected President, Mr Nayan Shah amidst the strong presence of over 500+ audience comprising luminaries from Banking, Finance, Legal, Government, developer fraternity and other important stakeholders like allied industry.

The most respected Industry doyen Mr Deepak Parekh, Chairman, HDFC and Global icon from the world of Finance was the Special Guest of Honour.

Shri Deepak Parekh in his very influential address on this special occasion brought out the challenges before the Real-Estate industry and its way forward. 

Addressing the august gathering, Mr Parekh said, "We may have different views on various issues but all of us are following the same objective of our Hon'ble PM Shri Narendra Modi – Housing for All. In my 40 years of being in the Real Estate industry, I have never been as optimistic as I am today. The Government of India has for the first time, introduced number of sops, incentives and concessions to all sectors of real – estate -  for developers as well as home buyers, which has never been done before in the past."

The ceremony witnessed the grand unveiling of "Vision Manifesto" outlining the key objectives for the need of the Execution, Completion, Commencement for the Real-Estate industry, amidst presence of Mr Nayan Shah, who endeavours to carry forward all the ongoing initiatives like GST, RERA, DCPR 2034, Common DCR and take these to their logical closure in a time-bound manner, where the focus shall be on EXECUTION – COMPLETION – COMMENCEMENT.
Speaking on the occasion, Mr Nayan Shah, President, CREDAI-MCHI said, "My endeavour is to make CREDAI-MCHI a universally respected Real Estate Trade body, Making Quality Affordable Homes across MMR a reality and work towards improving quality of life for all in MMR. I would work towards accomplishing the Mission to play the role of a facilitator and an industry catalyst in linking over 1500 developers across MMR with various stakeholders thereby projecting the MMR Real Estate Industry as a trustworthy partner in all-round growth and development."

"Not only this, on behalf of the Real Estate Industry in MMR, we would engage in the making representations to various Governments and Inter-Governmental organizations, at Urban Local Body, State & Central level. It is my privilege and honour to be the President of such a widely respected Association. It is now on my shoulders to carry this legacy further and build further upon the strong foundation of this over 35 years old organization." He added, "As an Association, we would make DCPR 2034 and Common DCR a truly workable answer to the current stalemate the industry is in, besides introducing EoDB in all functions, Land Titling Act, Scrapping of ULC Act, Environment NOCs: on conceptual plan, Defense NOCs etc."

Mr Gautam Chatterjee, Chairman MahaRERA said: The year 2017-18 has brought in a paradigm shift the way Real – Estate business use to happen particularly when the current initiatives are towards affordable housing. The regulation brought in last year is showing your compliant behaviour, initiating a process under MahaRERA. The prime purpose of registering your projects, especially ongoing projects, MahaRERA wants stands by you to see that these projects are completed in time. This is the win-win situation for everybody – the consumer, the developer."

Mr Ajoy Mehta, IAS, MCGM Commissioner, said "DCPR is in the last stages of finalization and for that, we are following a very transparent process. As we go along, the changes we make, we are going to show you and we want you to react. What is to be accepted would be accepted, what is not to be accepted, will not be accepted. At the end of it, there should be no surprises."

As a part of the major goal for Vision 2022, the Managing Committee members and other members took the oath of Transparency, Integrity, Honesty, Justice, Accountability, Compliance and fair play. 
Mr Mayur Shah, Outgoing President, CREDAI-MCHI said, "The year 2017-18 has been a High Octane Year loaded with some of the most ground-breaking achievements for not just CREDAI MCHI but real estate fraternity at large. From RERA, GST to DP Plan 2034, ITP Draft to the most exclusive and real-time collaborations of CREDAI MCHI with MCGM & other Govt Bodies, the year has brought us many successes.  With Mr Nayan Shah, on Chair as President CREDAI MCHI, we are looking forward to an iconic and extremely fruitful journey of CREDAI MCHI in all its endeavours done in the past year. His knowledge, expertise, insights and focus will help us scale new heights and I wish him a truly splendid tenure at CREDAI MCHI."